I'll be honest….I hate carving pumpkins. But I do it every year anyway haha. I guess because fall just wouldn't be the same without scooping out a slimy pumpkin. Amiright?!
That being said, I do LOVE roasted pumpkin seeds and that makes suffering through pumpkin carving worth it! (Okay okay, I made Zach scoop out the seeds for this recipe….so thanks, honey!)
There's so many different seasonings that can turn regular pumpkin seeds into extra delicious ones! We've been obsessed over Trader Joe's Chili Lime seasoning so I came up with my own version to make Chili Lime Roasted Pumpkin Seeds. Hope you like it!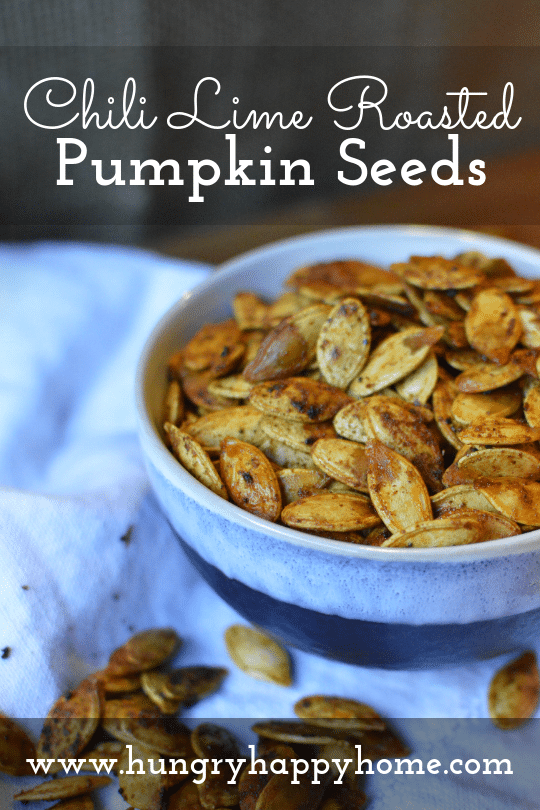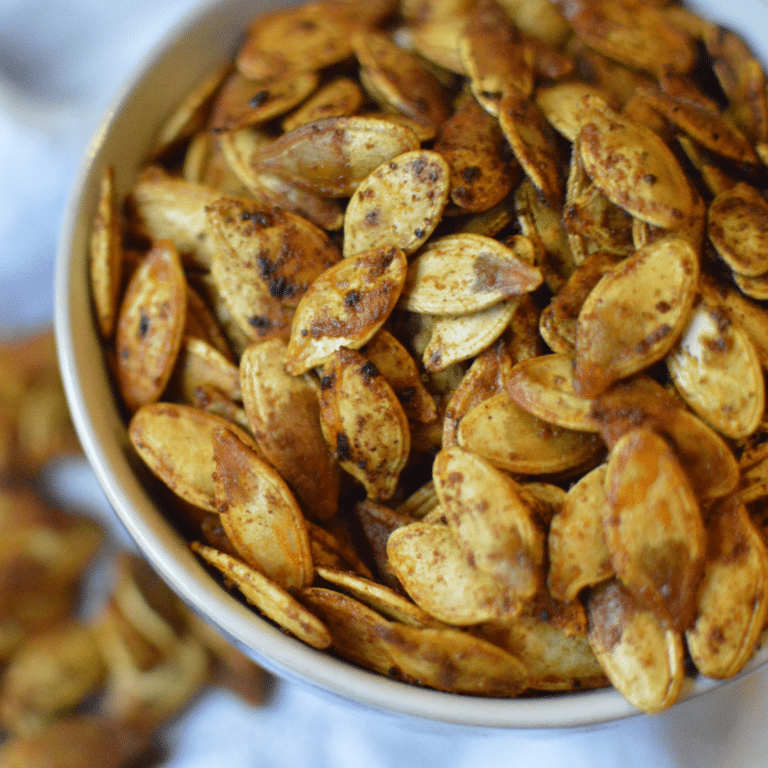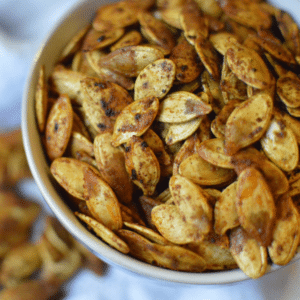 Chili Lime Roasted Pumpkin Seeds
Ingredients
Chili Lime Pumpkin Seeds
2

teaspoons

chili lime seasoning

(recipe/ingredients below)

2

teaspoons

melted butter

2

cups

raw pumpkin seeds

or whatever you get from one pumpkin, rinsed/cleaned of all gooey parts.
Chili Lime Seasoning
1/2

teaspoon

chipotle powder

1 1/2

teaspoons

paprika

1

teaspoon

lime juice powder

1/4

teaspoon

garlic powder

1/4

teaspoon

onion powder

1

teaspoon

salt

1/4

teaspoon

sugar
Instructions
In a small bowl, mix all chili lime seasoning ingredients and set aside. (Keep the leftovers in a small mason jar, to use on whatever you like at later time!)

Line baking sheet with aluminum foil.

Preheat oven to 300 degrees fahrenheit.

Together in a bowl, mix melted butter and pumpkin seeds.

Spread out the pumpkin seeds evenly on the baking sheet.

Season with two teaspoons chili lime seasoning.

Bake in the oven for 45 minutes, stirring occasionally...the pumpkins seeds should be a nice golden brown when finished!
Notes
CLEANING THE SEEDS: An easy way to clean the seeds is to put them in a colander and use your hands to separate the seeds from the gooey parts under cold running water.
Rate this recipe!
See below to comment and leave a rating