This Lemon Loaf Cake with Blackberry Glaze, makes me think about summer! I'm been dreaming of summer lately (definitely not used to the cold, rainy winters here in Charlotte) but we all enjoyed taking a bite out of sunshine and enjoyed this as a special treat. It is extra lemony- using fresh lemon juice/zest and topped with the perfect sweet compliment of blackberry glaze. This is the cake you didn't know you needed to try!
To make this recipe successfully, I recommend following the directions exactly. This means to make sure your eggs and butter are at room temperature! Having those ingredients at room temperature, helps the batter to mix evenly- you don't want clump of butter or egg in your cake- bleh!
Recommended Items to make Lemon Cake Loaf with Blackberry Glaze:
Lemon Zester
Citrus Juicer
Sifter
9×5 loaf pan
Parchment Paper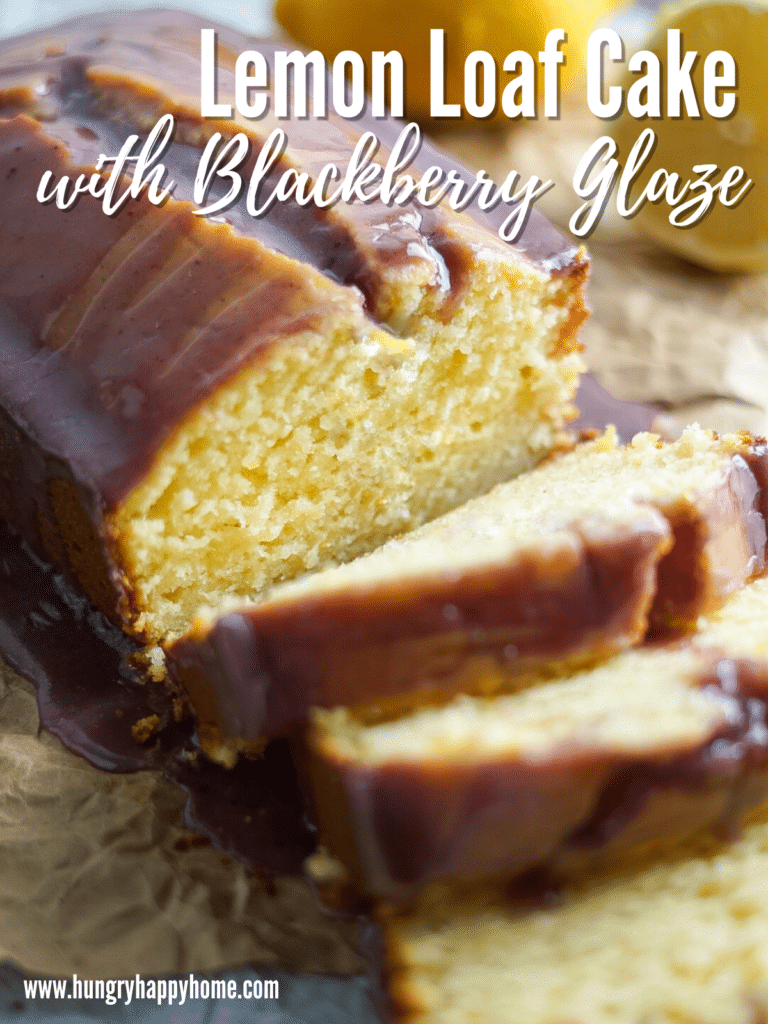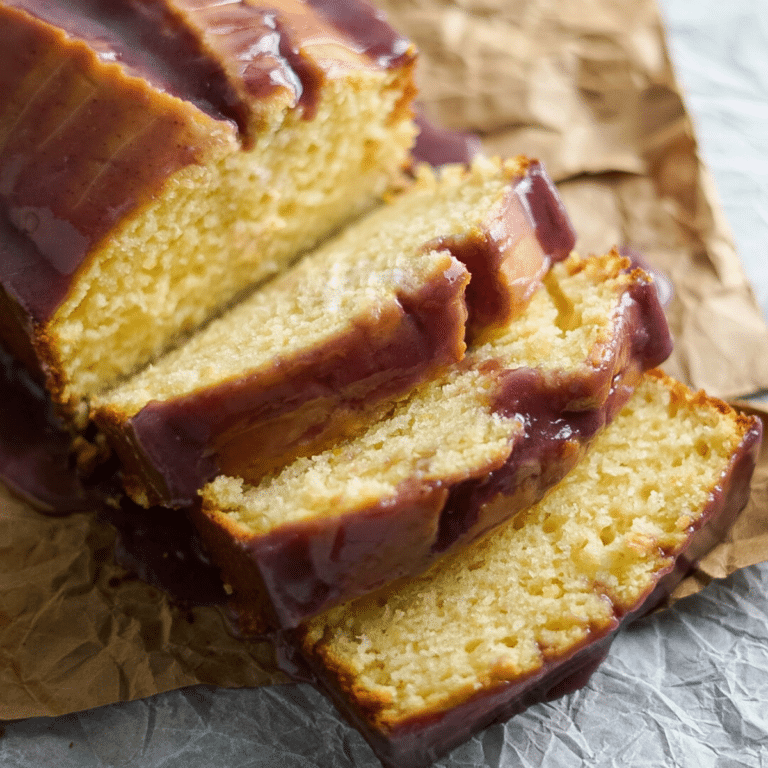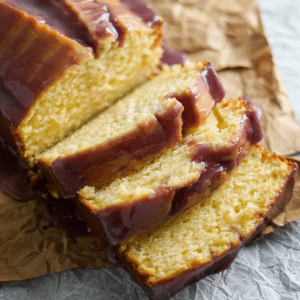 Lemon Loaf Cake with Blackberry Glaze
Take a bite out of sunshine!
Ingredients
1 ½

cups

flour

1

cup

sugar

3

eggs

at room temperature

1

tablespoon

pure vanilla extract

½

cup

butter

(1 stick) at room temperature

½

teaspoon

salt

1

tablespoon

fresh lemon zest

(about 1 medium/large lemons worth)

⅓

cup

fresh lemon juice

⅓

cup

plain Greek-style yogurt

2

teaspoons

baking powder
Blackberry Glaze
2

cups

powdered sugar

2

tablespoons

seedless blackberry jam

1

tablespoon

fresh lemon juice

1

tablespoon

water
Instructions
Preheat the oven to 325°F. Spray a 9×5-inch loaf pan with nonstick spray and line with a strip of parchment paper that covers the bottom and comes up over both sides of the short ends. The parchment paper should make little "handles" to help you remove the loaf from the pan later.

In a large bowl, cream the sugar and butter, either with an electric hand mixer or by hand (I HIGHLY recommend a hand mixer for this) until they are light and fluffy.

One at a time, add in the eggs, mixing well and scraping the sides as you go to get everything incorporated.

In a small bowl, mix together the Greek-style yogurt, lemon zest, lemon juice, and vanilla until well blended.

In another, medium-sized bowl, you're going to whisk together the dry ingredients: flour, baking powder, and salt.

Now the important part: Alternating between the wet (yogurt lemon mixture) and dry ingredients add them to the butter/sugar/egg batter. Start with the dry ingredients and add about ⅓ at a time. Mix after each addition until *just* combined. Be careful not to over-mix.

Pour the finished batter into the loaf pan and use a spatula to level the top. Bake for 60-70 minutes, or until a toothpick inserted into the center comes out clean. Place on a rack to cool. Cool for 15 minutes in the pan, then, using the parchment paper "handles", remove the cake from to finish cooling on the rack.
To Make the Blackberry Glaze:
Sift the powdered sugar into a medium sized mixing bowl. Be sure to remove any lumps. Add the lemon juice, water, and blackberry jam. Whisk until very smooth.

Pour the glaze over the top of the cake, spreading so that it runs down the sides. The glaze should be set after about 30 minutes.
Rate this recipe!
See below to comment and leave a rating
Recipe Tip:
This cake can be frozen! It freezes very nicely. Once it has cooled completely, wrap the whole cake (or individual slices) in aluminum foil to seal them tightly. When you would like to eat it, just take it out and leave on the counter to thaw for about 30 minutes.
Enjoy!
Check out my Gluten-Free Pumpkin Bread with Vanilla Bourbon Glaze or check out my Dessert board on Pinterest!