I like a lot of different foods but Filipino dishes top the list! It brings me back to when I was a kid, visiting with my mom's best friend. She would love to teach my mom how to cook different Filipino dishes and the kids would play for hours in the backyard. We would all come in and feast (yes, it was definitely a feast) on so many amazing foods like on pandesal, pancit, lumpia, rice (it's not a meal without rice), spinach laing and chicken adobo.
What makes my recipe a bit different is the addition of chunks of ginger. From what I understand, this isn't traditionally how Chicken Adobo is made, but I promise you, it makes an already great dish into an amazing one!
This is how my mom was taught, who taught me, who will hopefully teach you! I have adapted the recipe for a slow cooker but will include instructions on how to make it on the stove top as well. I hope you enjoy it as much as I do!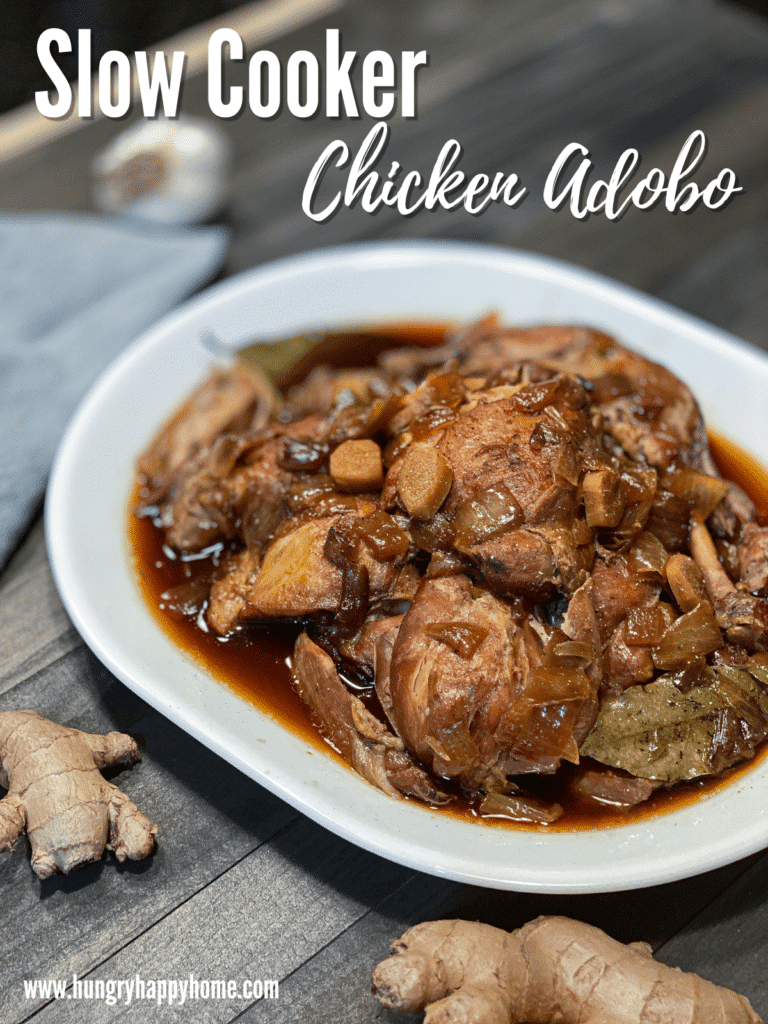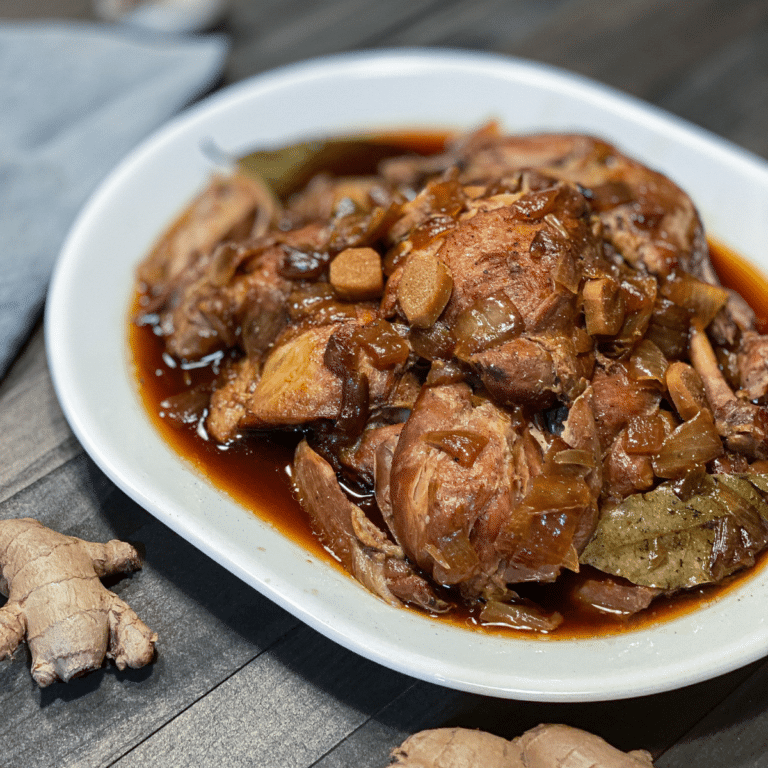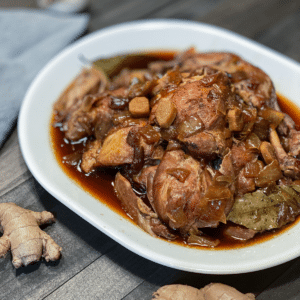 Slow Cooker Chicken Adobo
A delicious Filipino comfort food!
Ingredients
2

lbs

boneless, skinless chicken thighs

you can also use bone-in, just be sure to remove the skin.

2

tablespoons

vegetable oil

1

cup

soy sauce

1

cup

water

1/4

cup

white vinegar

1/4

cup

brown sugar

1/4

teaspoon

freshly ground black pepper

2

medium onions

chopped

4

bay leaves

3

garlic cloves

sliced

1

3 inch

piece of ginger

peeled and sliced
Instructions
In a large skillet, heat the oil over medium high heat and sear/brown the chicken thighs. Once they are seared on both sides transfer them to the slow cooker.

In a medium bowl, whisk together the soy sauce, water, vinegar and brown sugar. Pour over the chicken in the slow cooker.

Top with the black pepper, onions, bay leaves, garlic and ginger.

Cook on high for 4-5 hours or on low for 6-7 hours.
Rate this recipe!
See below to comment and leave a rating
Stove Top Instructions:
To cook this dish on the stove-top, the ingredients are the same just follow these instructions instead.
Heat the oil in a large pan over medium high/high heat. Sear the chicken on both sides.
Lower the heat to medium and add all of the remaining ingredients. Stir to combine.
Cover the pan with a lid and bring it to a boil. Once it reaches a boil, reduce the heat to low and simmer for half an hour or until the meat reaches an internal temperature of 165 degrees F.
Check out my other MAIN DISH recipes or check out my Poultry board on Pinterest.