Several weeks ago, we had a really fun time venturing to Milburn Orchards in Delaware and picking a ton of blackberries. But now that we had picked so many, we really had no idea what to do with them all. There was no way to eat them before they started to turn so I suggested we make blackberry jam!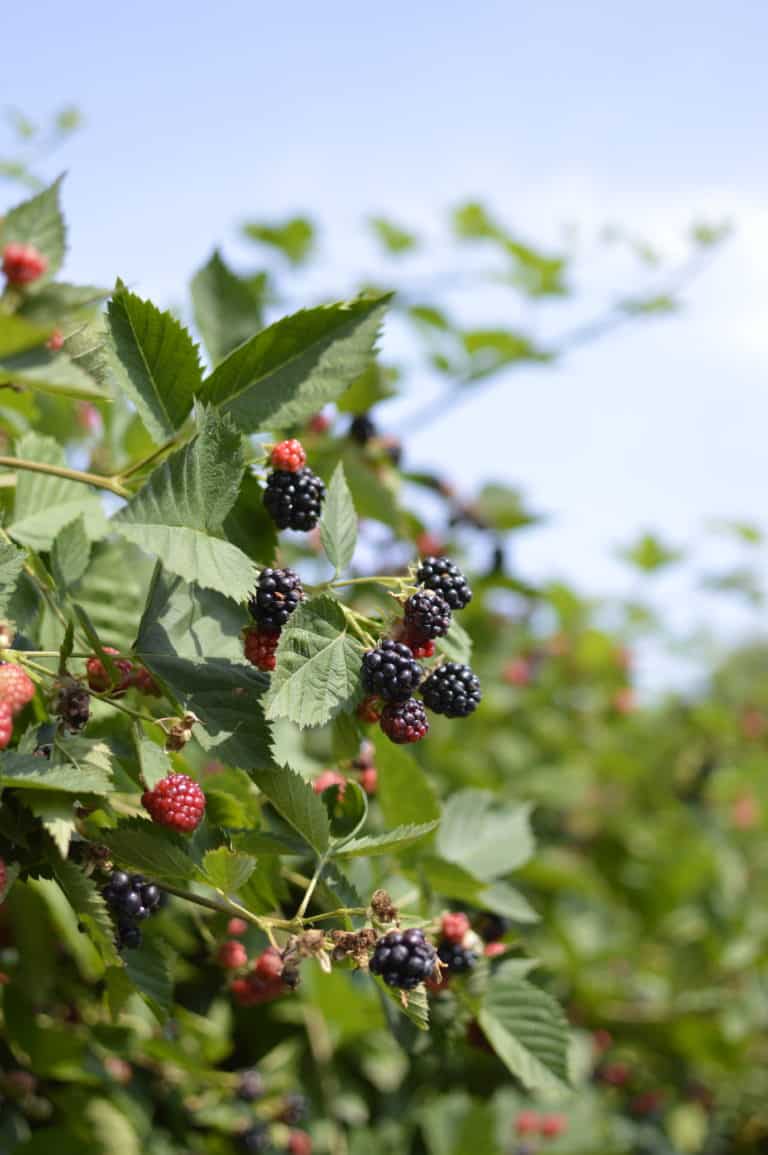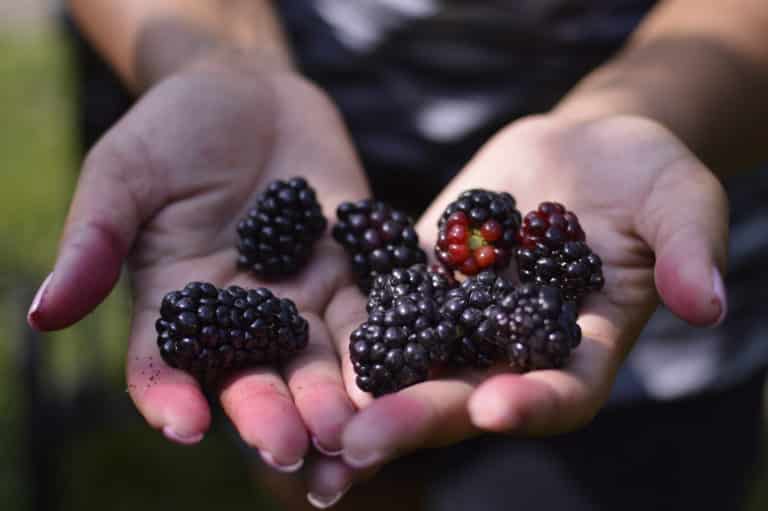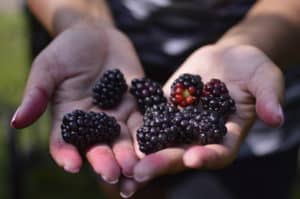 Now on to the Blackberry Jam
Okay, I'll admit that the first time we tried to make this, it wasn't so easy. And it definitely DID NOT come out as blackberry jam (whoops!). We tried to make it without sugar or pectin and it came out more like a blackberry sauce/syrup. It was tasty so we canned it anyway and it came in handy when my sister made these Lemon Ricotta Pancakes. We poured the blackberry sauce on top…Yum!
Anywho, the second time around, I decided to quit trying to be all healthy and stuff and just added the sugar and pectin. It came out fabulous!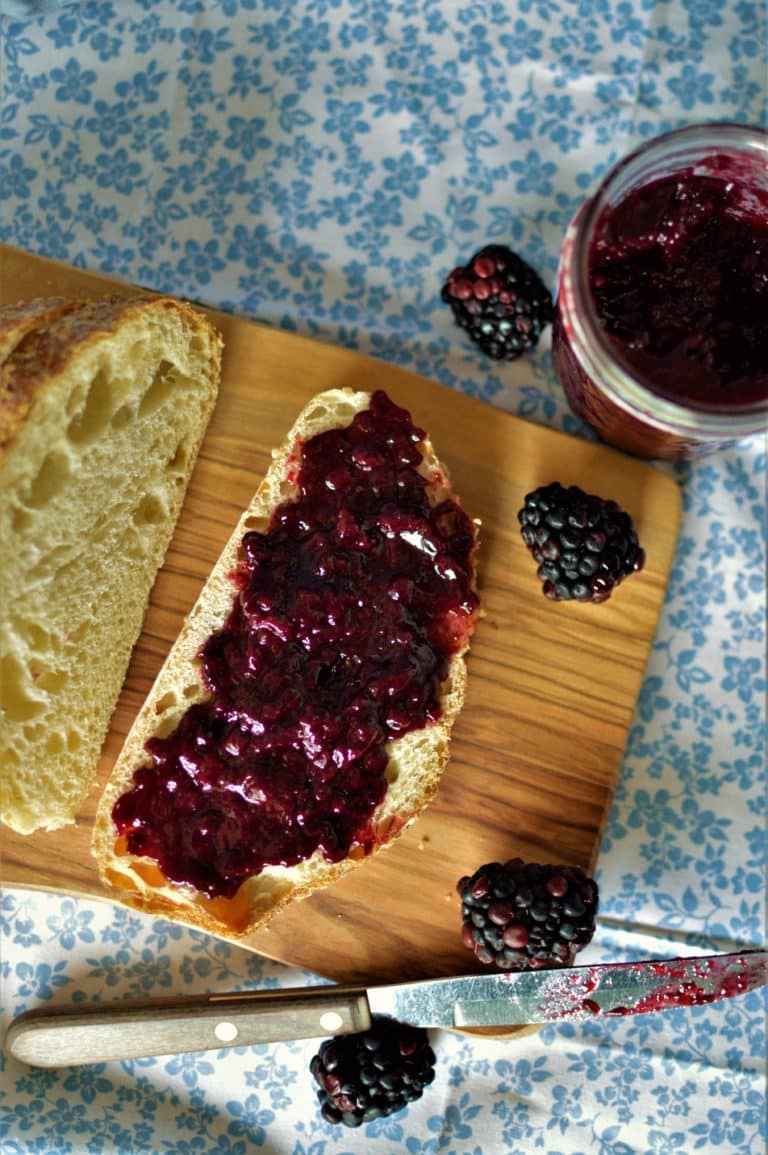 Please note that you will need to use the water bath canning method for this jam…Learn how to do that HERE!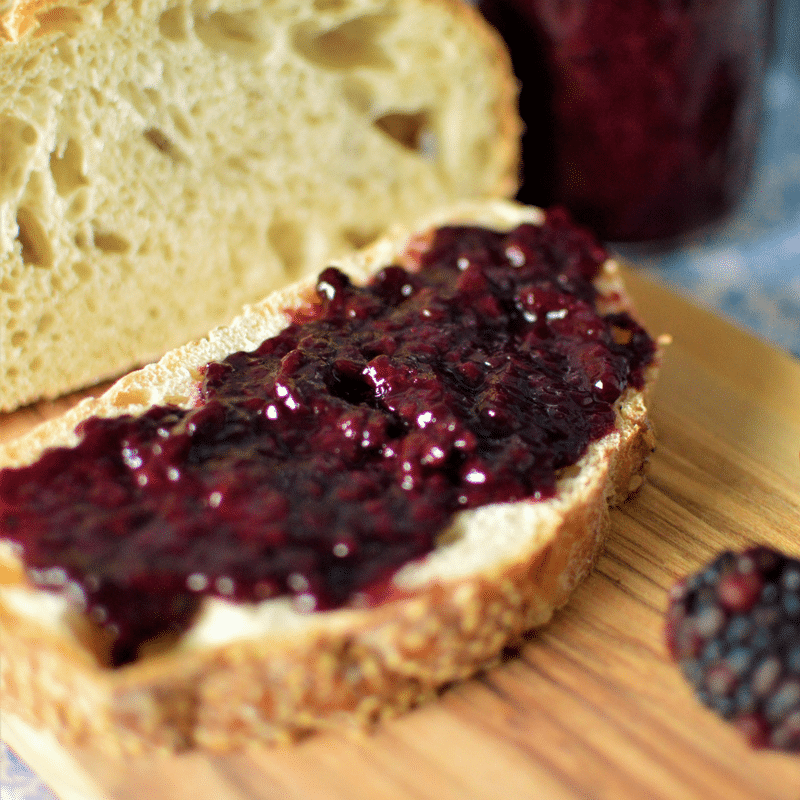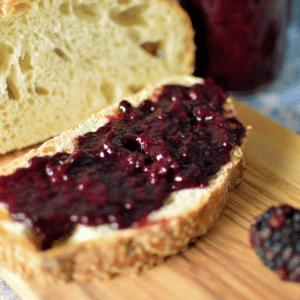 Easy Blackberry Jam
Ingredients
5

cups

fresh blackberries

5

cups

sugar

1

package

dry pectin
Instructions
Put the 5 cups blackberries in a large pot and use a potato masher to mash them into a pulp.

Measure out the sugar into bowl and set aside.

Heat the berries on high.

By now, you should see juice from the blackberries. Add the sugar to the pot and stir well to dissolve.

Stirring constantly, add the pectin in a little at a time.

Bring the mixture to a full boil. Keep stirring! Boil for 2 minutes and remove from heat.

Spoon the blackberry jam into your prepared jars leaving 1/4 inch headspace. (see above for a link to instructions on how to do the water bath canning method!)

Place the lids and rings on. Make sure the bands are not too tight! They need to be just tight enough that they won't leak.

Place the jars in the canner and process for 10 minutes. There should be 1 inch of water above the jars.

After the 10 minute processing time, remove the jars from the water and set them on a towel to set for 12 hours.
Rate this recipe!
See below to comment and leave a rating