I don't know how it took me this long, but I recently discovered toasted Buckwheat Kasha. It's my new favorite breakfast! Toasted buckwheat has a nutty flavor and goes really well with peaches, apples, pears, raspberries and strawberries…I find that most fall fruits really pair well with it but the possibilities are endless. It can also be made into savory dishes- but look for that on another blog post soon!
Despite its name, buckwheat is unrelated to the wheat family…it's actually more closely related to rhubarb (didn't expect that!) and contains no gluten. Many people consider it to be a superfood due to it being a good source of fiber and protein. The main thing I've noticed since adding these Kasha Breakfast Bowls to our morning menu, is that it keeps me feeling full until lunchtime – which is a big plus for me! Check out how to make it below and for more topping ideas!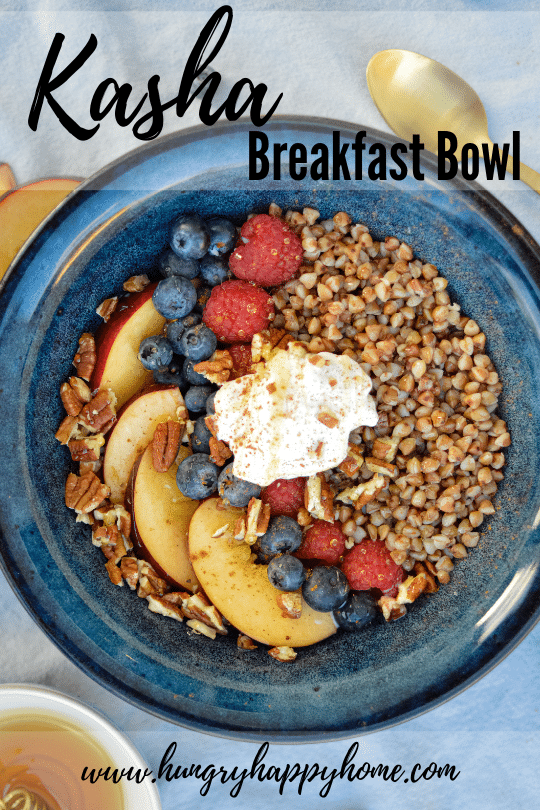 Check out more of my BREAKFAST RECIPES or my breakfast board on PINTEREST.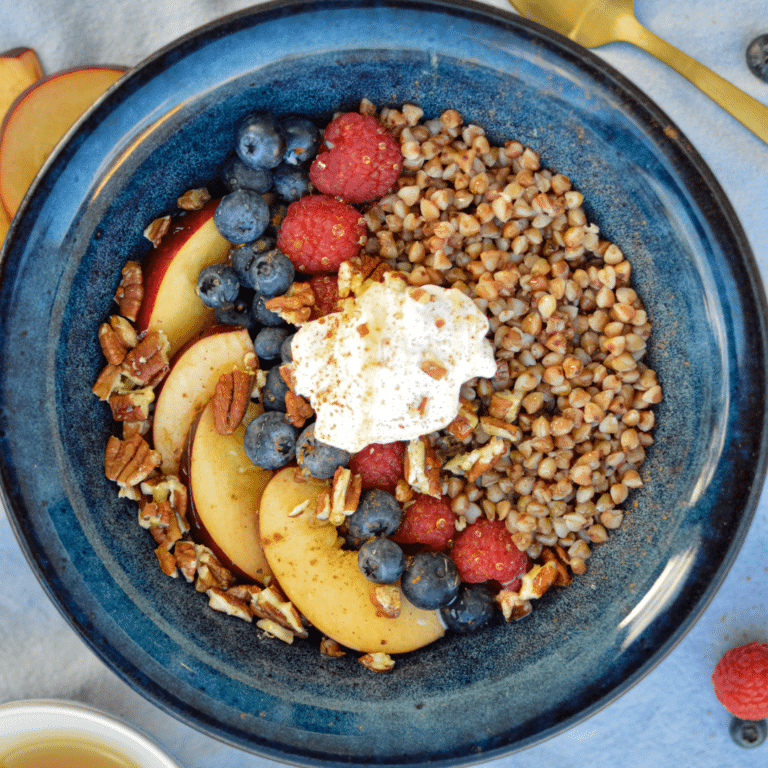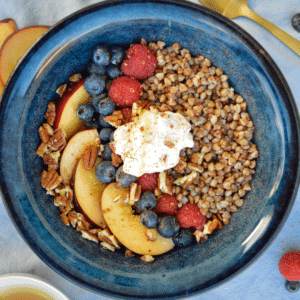 Buckwheat Kasha Breakfast Bowls
Buckwheat Kasha Breakfast Bowls are a great and tasty alternative to traditional oatmeal! Top with your favorite fruit and enjoy!
Ingredients
2

cups

water

1

cup

toasted buckwheat kasha

whole grain, not "cracked"

small sprinkle of kosher salt
Instructions
In a small to medium sized pot , add water, kasha and small sprinkle of salt.

Bring to a boil. Once it reaches a boil, turn the temperature to low and simmer for 12-15 minutes.

Remove from heat, divide into bowls and top with your favorite toppings from the list below!
Notes
Toppings Ideas:
Peaches
Pears
Raspberries
Strawberries
Chopped almonds or pecans
Greek style yogurt
Honey, brown sugar, molasses or maple syrup
Nut butter
Banana
Dates
Dried cranberries, cherries, or raisins
Cacao nibs
Coconut flakes
Milk/milk alternative
Whipped cream
Rate this recipe!
See below to comment and leave a rating