This recipe for Portobello Mushroom Spring Rolls is a family favorite! It's quite easy to make (more chopping and prep work than anything) and the family has a lot of fun putting them together…I usually just set out all of the prepared ingredients, the bowl of water and we make them as we eat! These are vegetarian/vegan spring rolls and hoisin sauce is traditionally vegan as well. Perfect addition to Meatless Monday options!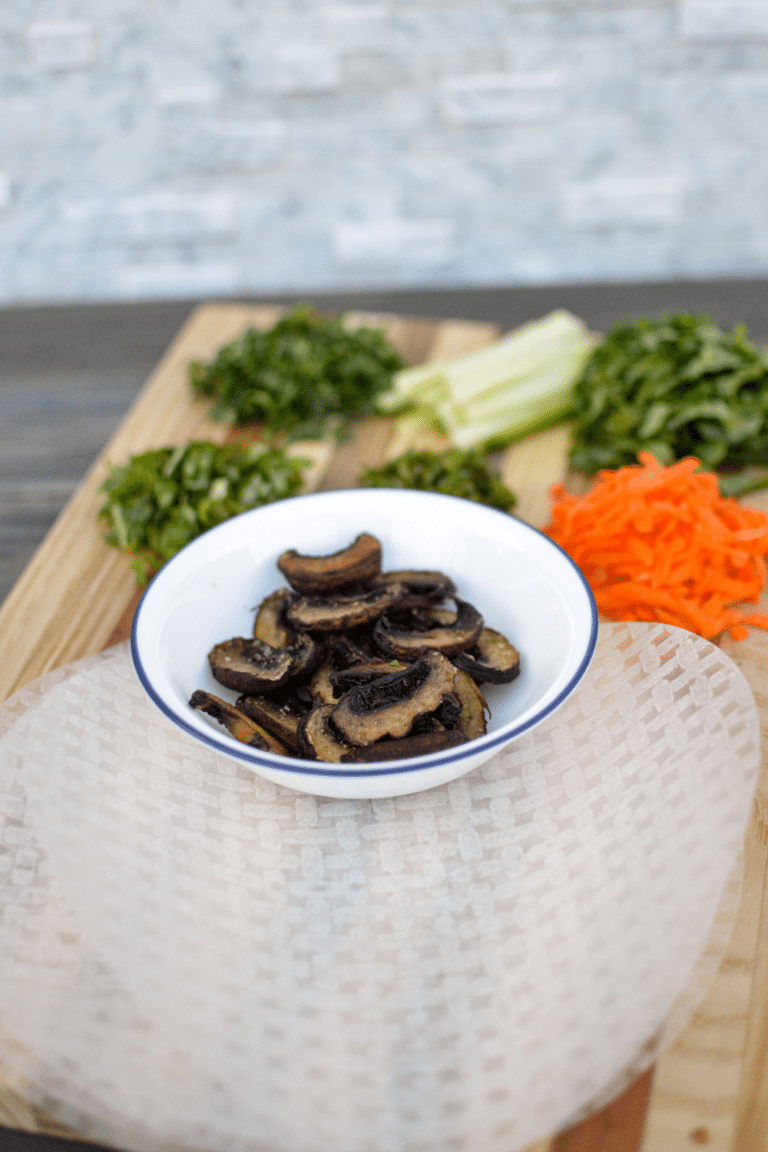 I explain this better down below, but here's a picture of how you will fold the wrapper once you're ready.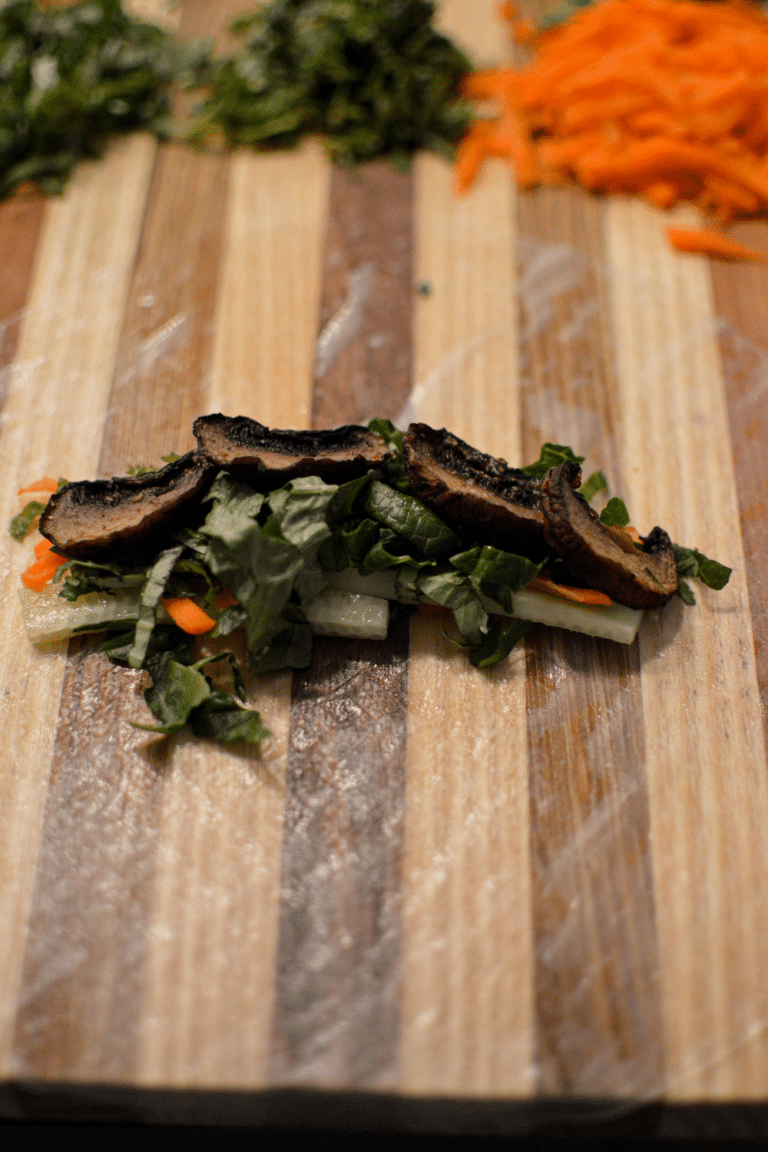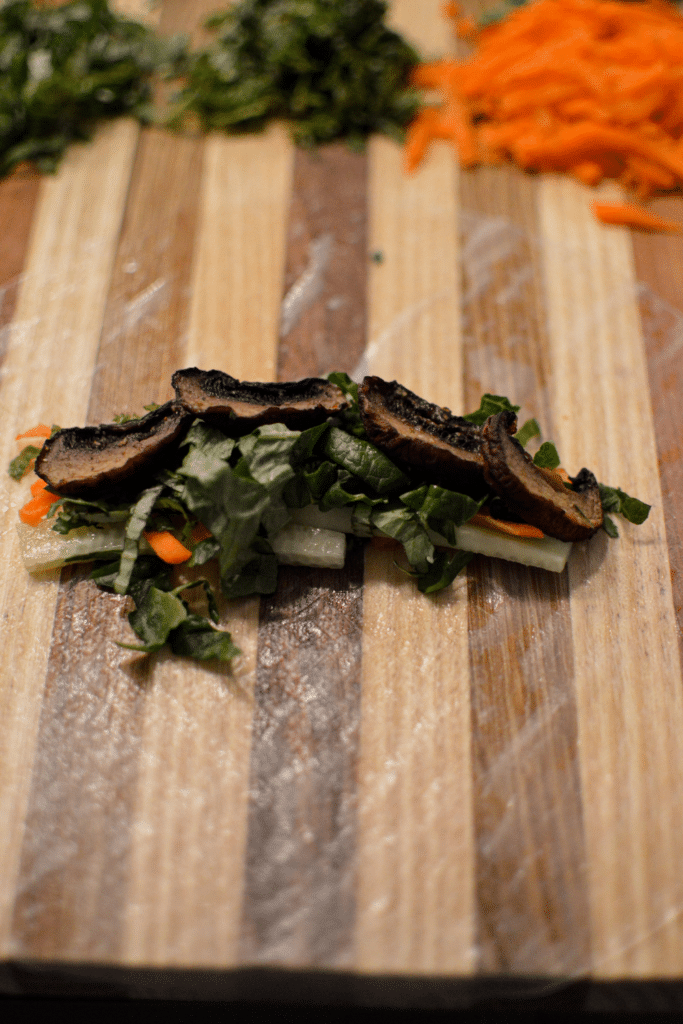 After you put what you want on top of the rice paper, you'll fold the left and right side over, then you'll fold the bottom up and roll with it!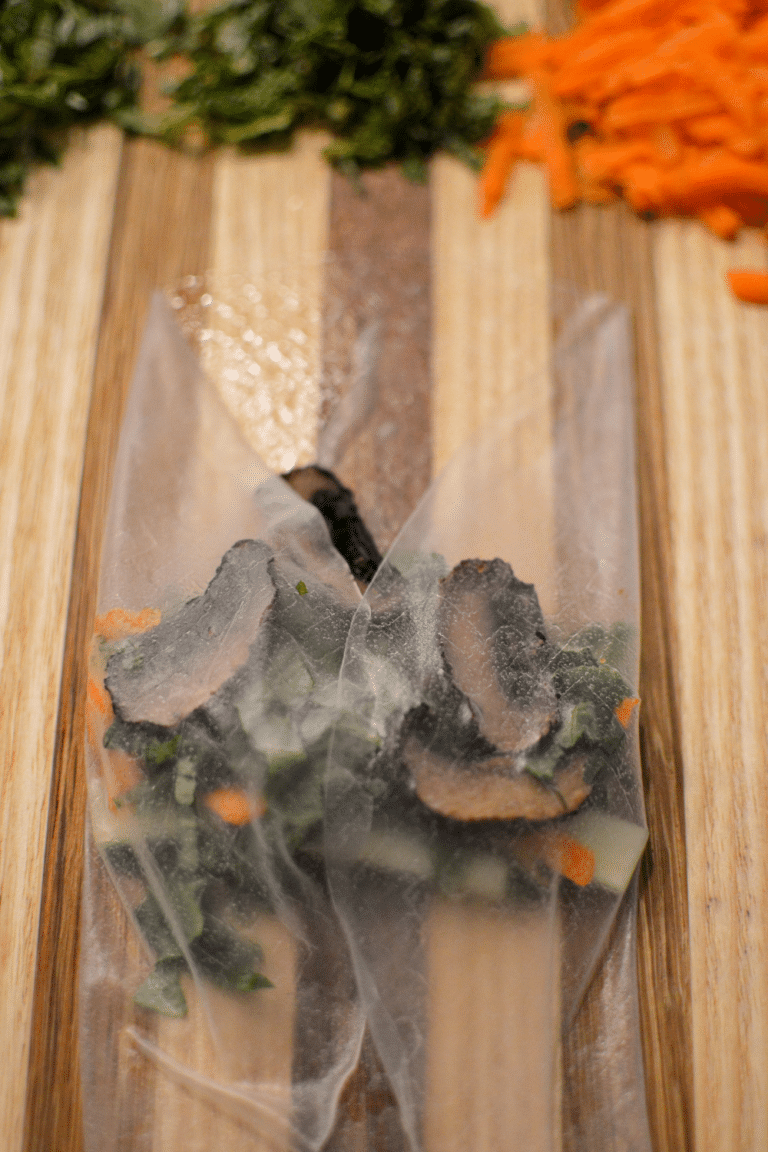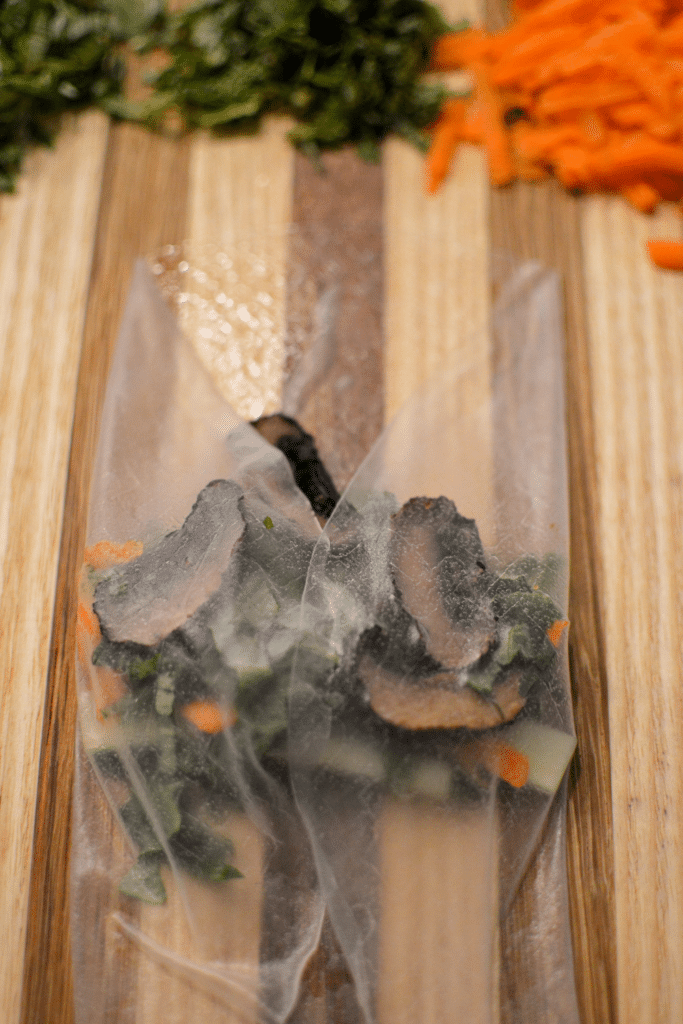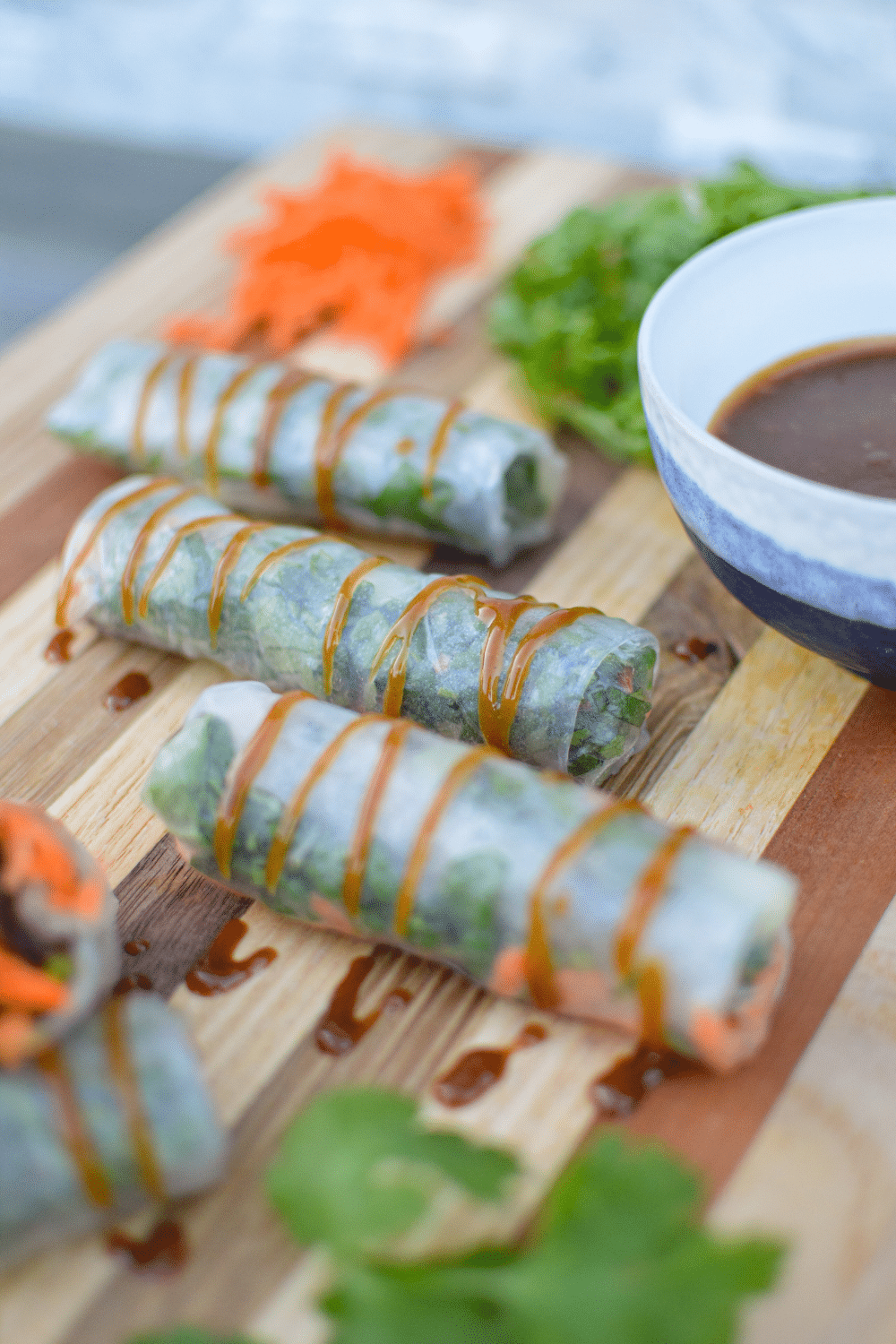 Check out more of of my MEATLESS RECIPES or my PINTEREST board!
*I first shared this Portobello Mushroom Vegan Spring Rolls recipe on The Traveler's Nest Blog and updated it in January 2021*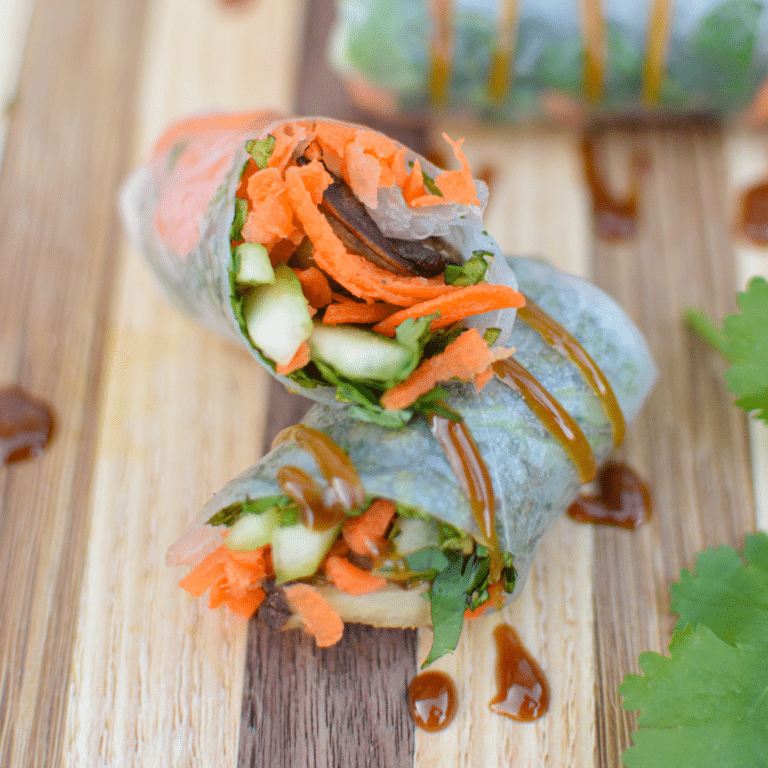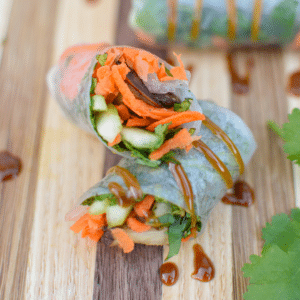 Portobello Mushroom Spring Rolls
Ingredients
1

package

rice wrappers

4-5

large portobello mushrooms

seasoned, baked and sliced. You Can also use the "baby" Portobello mushrooms, you'll just need more of them.

1

serving

rice noodles

cooked according to package...sometimes we leave this one out depending on if we have it on hand

4

tablespoons

fresh mint

chopped

2 1/2

tablespoons

fresh Thai basil

chopped

4

tablespoons

fresh cilantro

chopped

5

leaves

lettuce

chopped- I used iceberg or romaine

1/2

carrot

shredded

1/2

cucumber

cut into matchsticks
Instructions
Portobello Prep
Line baking sheet with aluminum foil. Spray lightly/evenly with cooking spray to coat the foil. Rinse mushrooms and pat dry. Slice into 1/2 inch pieces. Lay them on the baking sheet in an single layer and drizzle with olive oil.

Season with your choice of seasoning. In the past I've used a Sweet Ginger Garlic blend and trusty ol' Garlic Salt.

Bake at 425 degrees for 15-20 minutes.
Making the Spring Rolls
Slice baked mushrooms/prepare all fresh ingredients and set aside.

Fill large bowl with warm/hot water.

Dip one wrapper into the hot water for 2-3 seconds to soften.

Lay the wrapper flat (I like to put it on one of those thin plastic cutting boards). In the center, place small amount of noodles, sliced mushrooms, mint, basil, cilantro, lettuce, carrot, and cucumber, leaving about 1-2 inches on either side uncovered.

Fold those 2 sides inward and tightly roll the wrapper beginning at the end with the noodles.

Repeat with the remaining ingredients until finished.
Optional Peanut Sauce- In a Small Sauce Pan:
Mix ¼ cup peanut butter and ½ cup hoisin sauce.

Whisk over medium/low heat until blended.

Add about 1/4 cup water (or more depending on how you like it) to thin the sauce.

Serve with the spring rolls and enjoy!
Notes
You can also use shrimp instead of mushrooms!
Rate this recipe!
See below to comment and leave a rating