Quinoa Tabbouleh: basically regular tabbouleh but with quinoa instead! Bet you didn't see that one coming!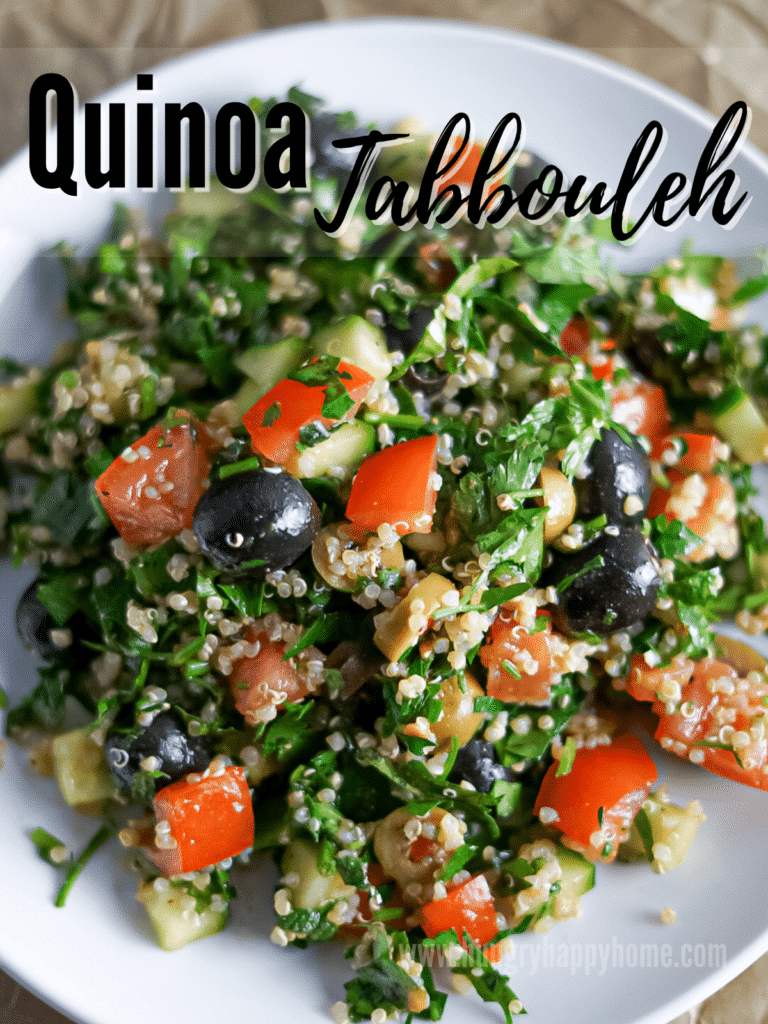 Traditionally made with bulger wheat, our take on tabbouleh happened when we were adapting our favorite recipes to be gluten free. We all liked it so much, it's stuck around even though it's not a necessity now.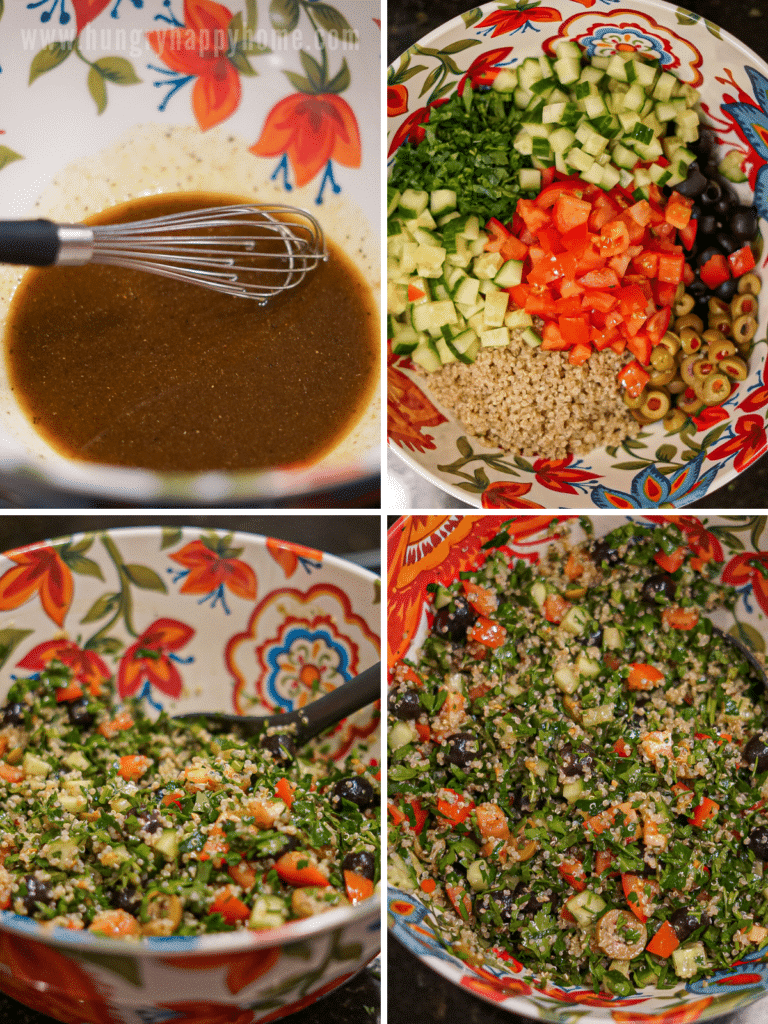 Quinoa is a great grain to substitute for rice or wheat. Besides from being gluten free, it also contains protein and fiber so it can really be a great addition to your diet.
And now time for a funny story!
The first time I cooked quinoa, I threw it away twice because I thought it had tiny worms in it….there wasn't, it was just the germ. Seeing the white germ is actually an indicator that the quinoa is fully cooked so it's a good thing. But I still laugh about that today! Also, still a bit mad I wasted two pots of perfectly good quinoa. You win some, you lose some. Ha!
Can I make this in a food processor?
Yes you can!
Add all of the liquid ingredients first, then the spices, spearmint. parsley and green onions in food processor and turn on. Allow it to run until it is finely chopped. Transfer to a large bowl and combine with the rest of the ingredients.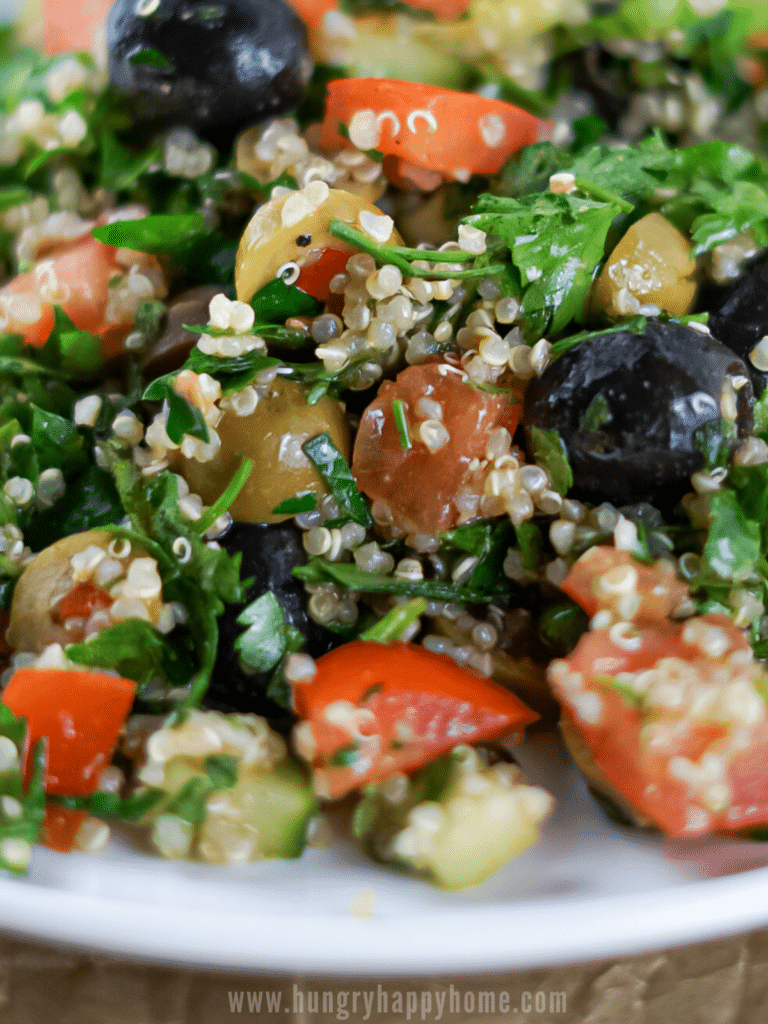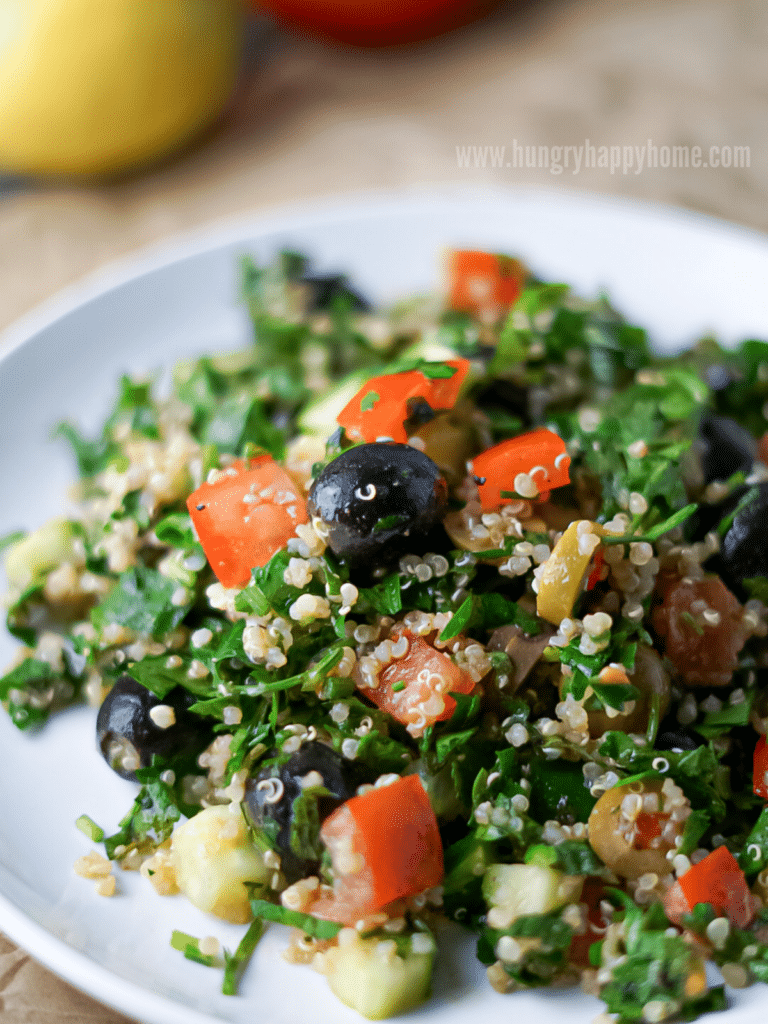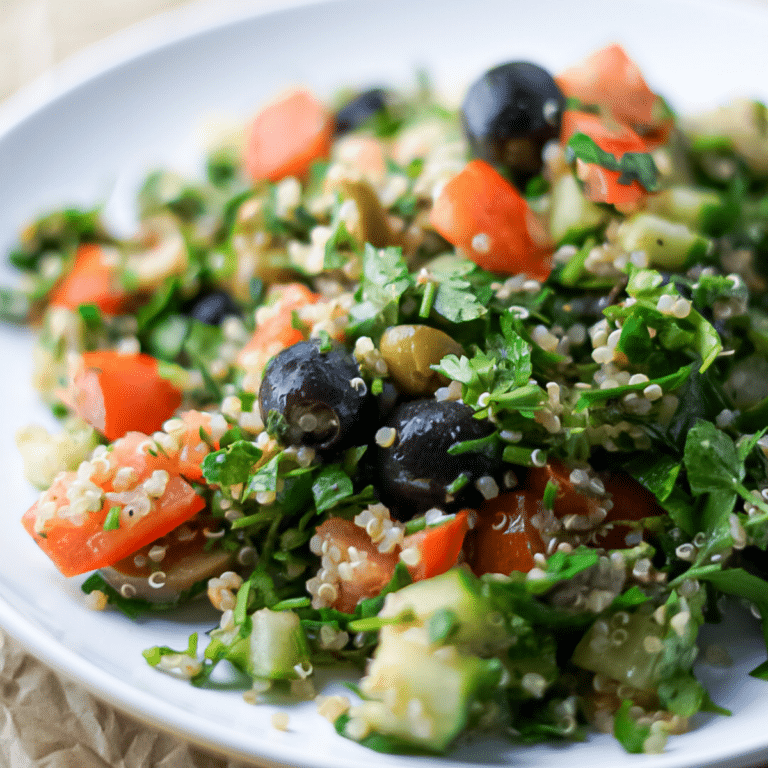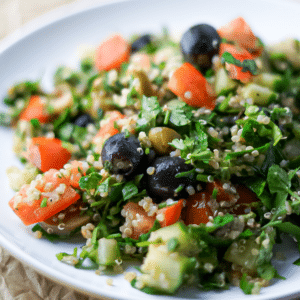 Quinoa Tabbouleh
A gluten free version of the traditional Tabbouleh
Ingredients
Juice from 2 lemons

½

cup

olive oil

1

tsp

salt

1

tsp

freshly ground black pepper

1

tbsp

ground cumin

1

cup

spearmint leaves

washed and minced

2

bunches

flat italian parsley

washed and minced

3

cups

cooked quinoa

completely cooled or refrigerated

½

cup

green onions

thinly sliced

1

can

medium pitted black olives

1/2

cup

green olive slices

2

cups

cucumber

chopped

2

cups

Roma tomatoes

chopped
Instructions
Combine first 5 ingredients in large bowl.

Add the rest of the ingredients and stir well.

Refrigerate for at least 1 hour before serving to all flavors to meld.
Rate this recipe!
See below to comment and leave a rating
Letting the tabbouleh refrigerate for at least an hour will bring out the best in the dish. If you have the time to let it refrigerate overnight it'll be even better!
Check out more of my SALAD recipes or my SALAD recipe board on Pinterest!