Old Bay Salmon is seriously the best way to cook up a salmon filet. I've never really been a fan of salmon (or many other types of fish for that matter) but cooking it this way has changed my mind. I would also say "even the kids like it!" but I've been blessed with two chow hounds that pretty much each anything. Then just throw some ketchup on the things they don't like, and they'll eat that too! Are all children obsessed with ketchup or just mine?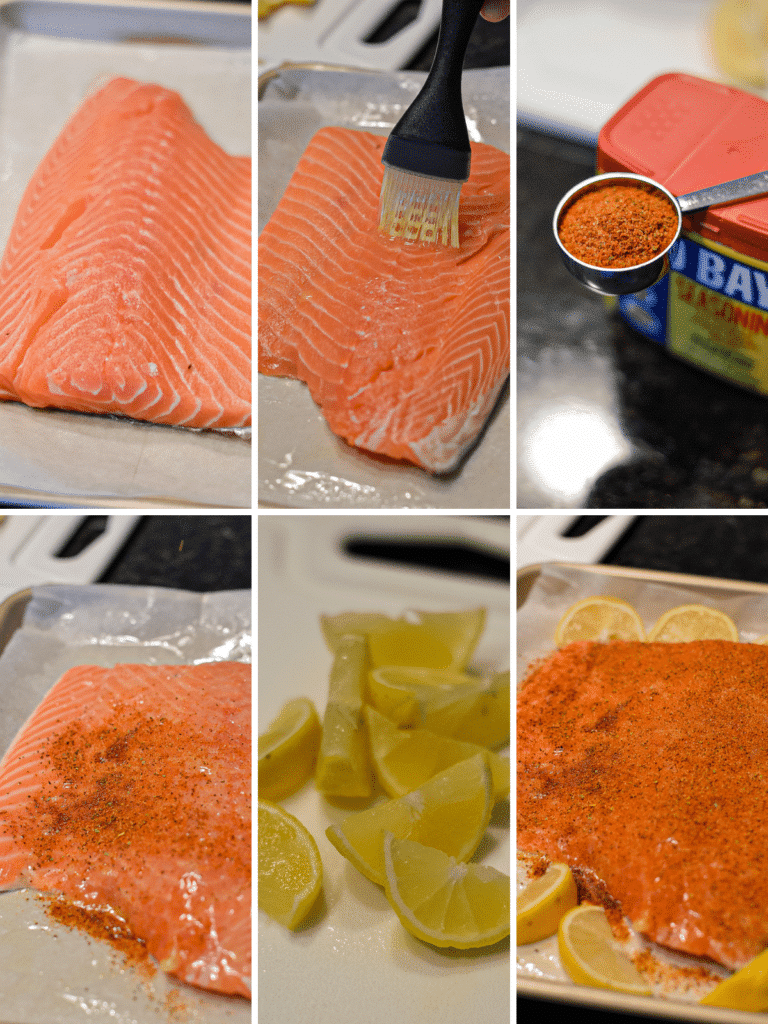 Back to Old Bay Salmon. You'll see it's perfectly flaky, tender and flavorful. It comes together very quickly so it's perfect for one of those nights that you don't know what to cook (but you can avoid that using my Weekly Menu Planning Printable *winkwink*). This will soon become a go-to recipe!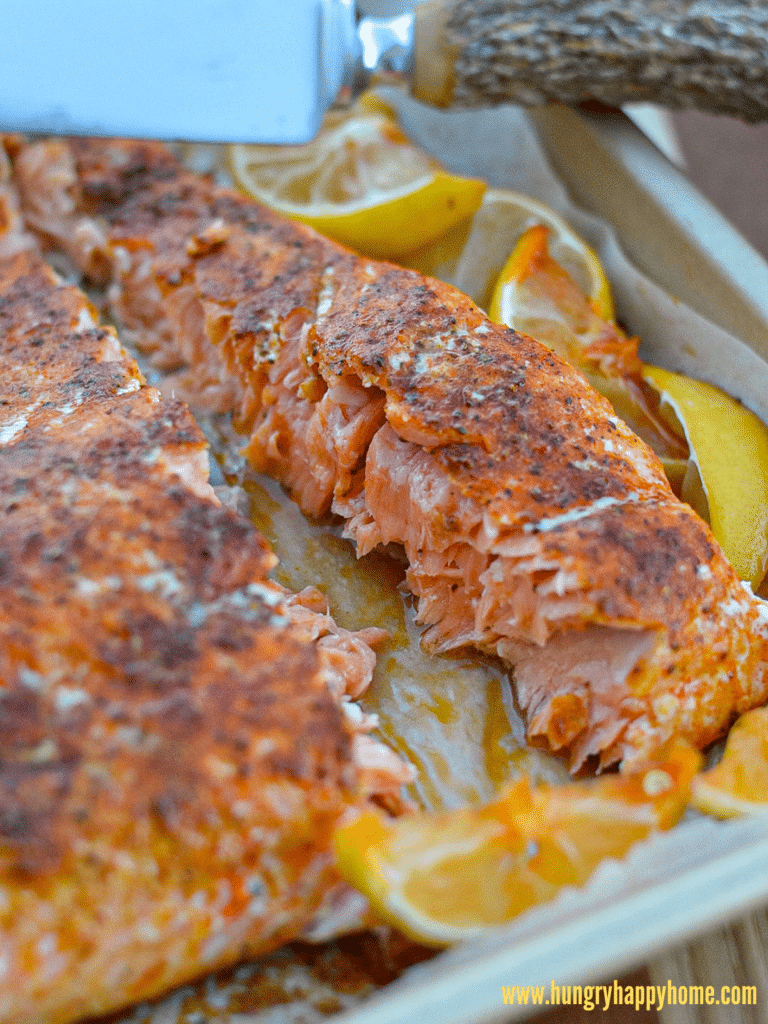 Try serving this with my Lemon Roasted Broccoli– it's a perfect pairing!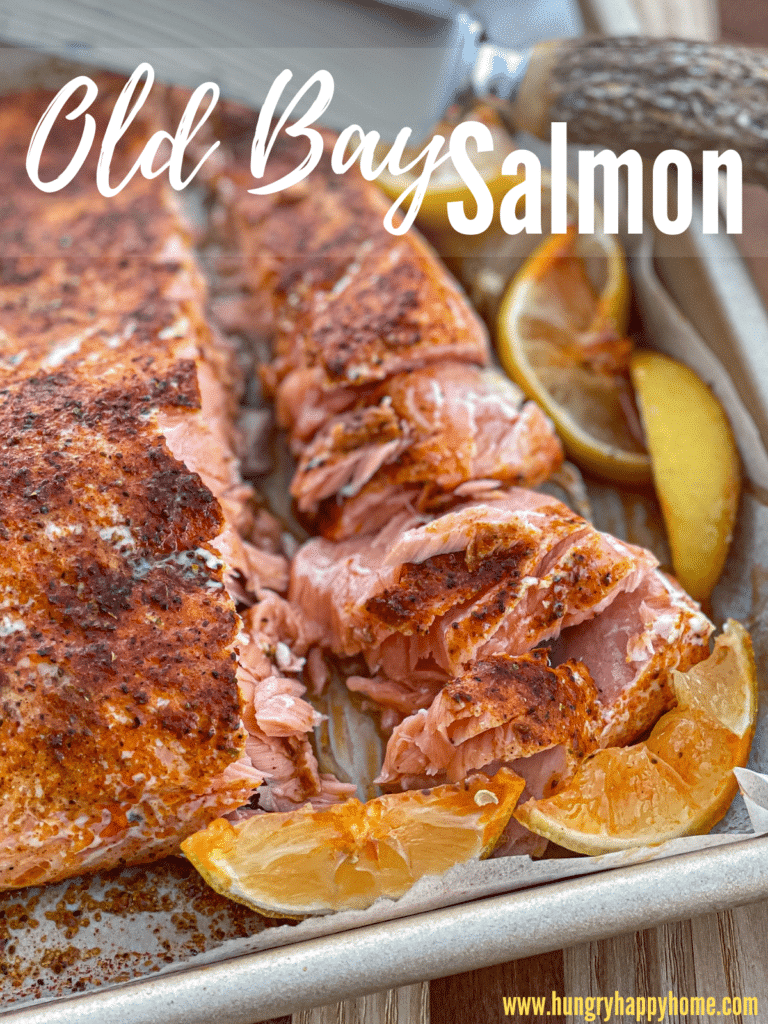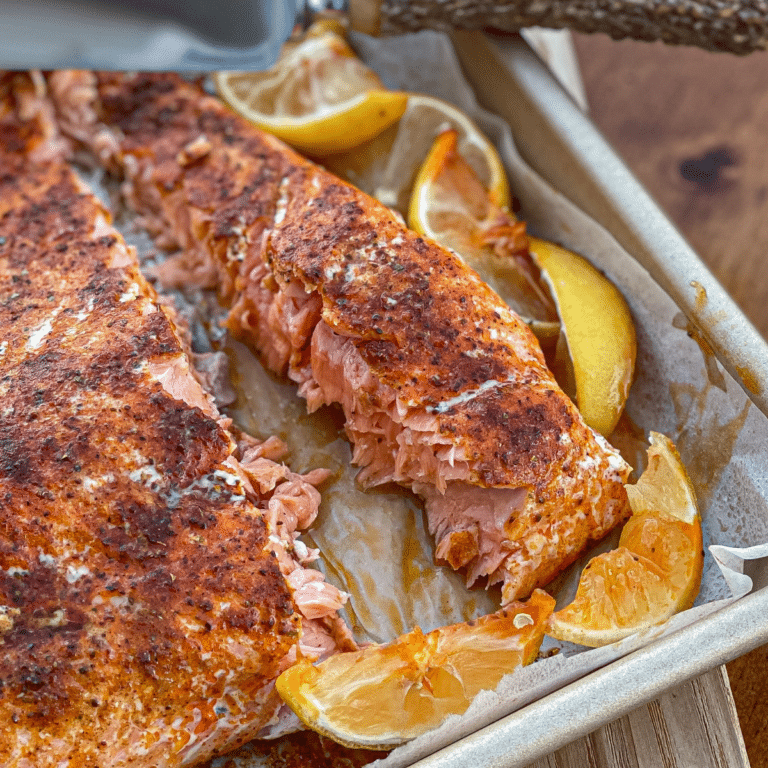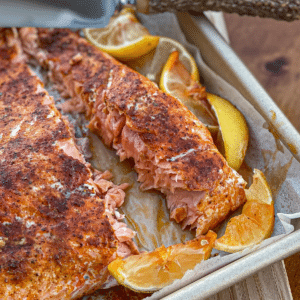 Old Bay Salmon
A Quick and delicious way to cook salmon. Tender, flaky, and flavorful!
Ingredients
1-1.5

lbs

salmon filet

or substitute with 4, 6oz salmon filets

2

tablespoons

butter

melted

1

tablespoon

Old Bay seasoning

1

fresh lemon

cut into slices
Instructions
Line baking sheet with parchment paper.

Using paper towels, pat salmon filet dry and lay skin side down on baking sheet. When I pat dry, I like to feel around a check for any bones that may have been missed.

Using a basting brush, brush the melted butter on the salmon making sure to cover the whole filet evenly.

Coat the salmon evenly with 1 tablespoon of Old Bay seasoning.

Place the lemon slices in the baking sheet around the salmon filet.

Place in the oven and bake for approximately 10-12 minutes, until the salmon reaches an internal temperature of 145° F.
Rate this recipe!
See below to comment and leave a rating
Tips: You can remove the skin beforehand but I prefer to cook the salmon with the skin on and remove it as I'm serving it. The skin provides a barrier between the filet and the hot baking sheet…so while not impossible, burning it to sheet would be difficult!
Check out more Main Dish recipes HERE or my Seafood Recipe Board on Pinterest!